A Metamorphosis progresses in Vermont!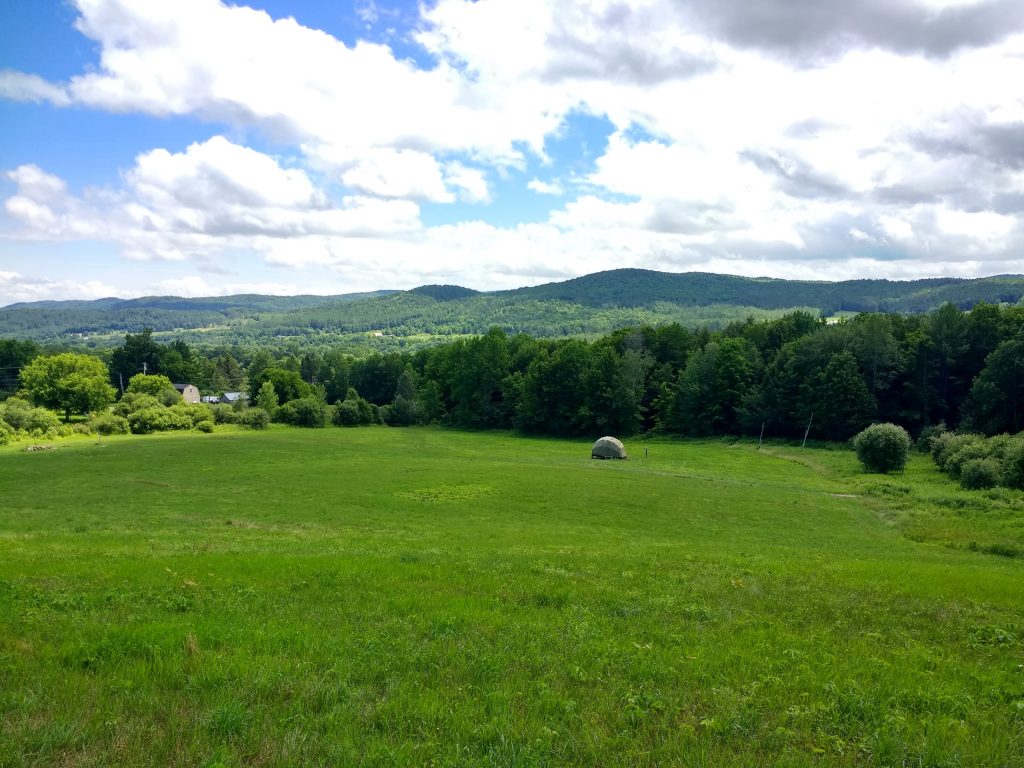 Firefly awaits when our community will again rejoice and burn together; a mammoth insect, too, is coming into being for wandering Fireflies.  For 2021-2022 we are building a monarch butterfly chrysalis in Bethel, one which cannot—yet—burn, awaiting the certain hope of finding transformation in its community's return.  When we all next gather and burn together at Firefly, the butterfly will emerge to celebrate our congregation. 
Soon, those who wish to make a pilgrimage to Firefly land in Vermont will find a place to reflect and commune with the woods we love; starting after July 4th weekend, the Chrysalis will await visitors there until the time is ripe for a community burn. Details about how to visit are below.
The Chrysalis is a collaborative art project for Fireflies (and others) to enjoy, located in The Field where Firefly has gathered since 2009, in the form of a wood-and-fabric chrysalis structure with interior gathering space.  There is a FAQ below; other questions send to chrysalis@fireflyartscollective.org.
How to Visit
To arrange a visit or overnight stay for your group, email the landowners at laurelinvt@gmail.com or (if you're friends on the internets) at https://www.facebook.com/revkirkwhite.
Chrysalis Participant FAQ
Q:  How can  I go and visit the Chrysalis?
A:  The Chrysalis is located on private land, please don't just arrive unannounced.  Make your group's arrangements directly with the landowner for a day-trip or overnight camping—see How to Visit above.  The land does not have infinite capacity, and many weekends have events occurring, so advance planning is recommended.
Q: Will there be a Firefly gathering of some kind at the Chrysalis in 2021? 
A: The Chrysalis team intends to organize a trip this fall around September which will include an exciting possibility to help inventory Firefly storage and complete other work-weekend-style activities!
Q: What will I find at the Chrysalis site?
A: The woods are the same Vermont woods you remember!  The Chrysalis is the large green cocoon-shaped object in the Field.  Inside, you'll find a platform for off-the-ground hangouts, some seating, solar lights for nighttime.
Q:  When will the Chrysalis Burn occur?
A:  It's not yet possible to have an effigy Burn because the community can't gather together, and the community is an essential part of a Burn.  When it is possible, we'll figure out how a Chrysalis Burn will happen.
In addition to pandemic gathering safety, a Chrysalis Burn needs to have enough volunteers to have a safe fire, and weather which isn't too snowy nor too dry to get a burn permit.  With many planning challenges, it is likely that the best time for a community Chrysalis Burn will be Firefly 2022.
Q: How can I contribute to the Chrysalis project?
A: Your participation is welcome!  The Chrysalis belongs to you and the rest of the Firefly community.  You can contribute like you would with any art project you'd find at a Burn.  If you encounter a problem with the Chrysalis, you can fix it!  Or email chrysalis@fireflyartscollective.org and let the artists know that there's some maintenance to be done.  If you'd like to participate in ongoing maintenance, that's also helpful, let us know!
Q: Can I leave things in the Chrysalis?
A: Yes, you can contribute objects to the communal art!  Please don't add things to the Chrysalis which make it harder for others to interact with it, make it less weatherproof, attract hungry raccoons, or, ya know, damage it.
Please note that people who aren't part of Firefly will visit the Chrysalis too, and what you add may reflect on our whole community.  The structure is mostly-but-not-entirely weatherproof, and damp moldy unicorn plushies make everyone sad.
Q: Can I climb on top of the Chrysalis?
A: No:  the Chrysalis is made of fabric, do not climb on it, the fabric is intended to keep you dry inside, not hold your weight.
Q: Is the inside of the Chrysalis clothing-optional?
A: 10/10 mosquitoes surveyed approve of this method of participation. 
Q: What do I do when leaving the Chrysalis site?
A: CLEAN UP ANY TRASH!  And zip the door behind you. 
Q: Can I host or facilitate a small event at the Chrysalis site?
A: Please make arrangements with the landowner—see How to Visit, above—for all visitors to the site.  Visitors can use the Chrysalis for whatever non-commercial purposes they feel called to. 
Q:  I have another question not on this FAQ!
A:  Email chrysalis@fireflyartscollective.org!