Rangering is a great volunteer opportunity for participants who have BEEN TO FIREFLY BEFORE OR HAVE SERVED AS RANGERS AT OTHER BURNER EVENTS.
To volunteer for the 2018 Firefly Rangers, please fill out this survey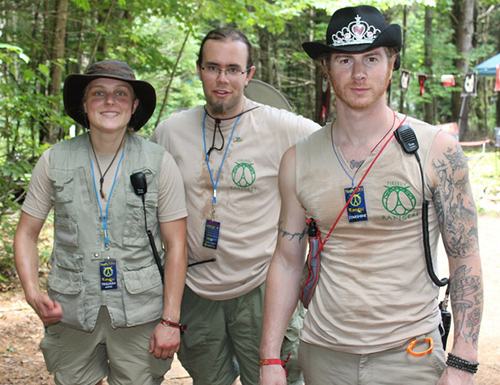 Firefly Rangers keep an eye out on safety, guide the lost, and help where they can. Anyone with decent people skills can become an excellent Ranger. Rangers from other Burn-type events are very welcome indeed.
Rangers are friendly helpful Fireflies working with other festival participants over the course of the event. We are neither a security force nor enforcers. Being a Ranger is a commitment to aid and facilitate the community, and it is a very enjoyable one. You don't need to withdraw from the event; on the contrary, you are encouraged to participate actively, just with added responsibility for a time, and a radio. You need to have a straight head and be willing to listen to people. You can, and should, watch, enjoy, and involve yourself in goings on. You are the eyes and ears of the event and you help to hold it all together. You may head off a problem before it gets serious. Communication is a powerful tool.
This is a great way to volunteer if you like people, and enjoy helping them out on a personal level, while contributing to the safety and continued smooth flow of the event. It mostly involves walking around the event looking at cool stuff and paying attention to your surroundings.
Rangers are required to take a Ranger Training course before the Firefly event. Prospective Rangers must also complete a successful Alpha Shift at the event in order to become a full fledged Ranger. Firefly Ranger trainings are offered on several dates across May and June. Black Rock Ranger training will also qualify one as having been trained that year for the Firefly Rangers. We also recommend going to SFTY3RD if you are serious about volunteering for any of Firefly's Safety Cores.
Rangers that have completed at least one year of Rangering are also encouraged to volunteer on Ranger Teams. Ranger Teams organize and facilitate the operations of Firefly Ranger Organization. These are the Rangers that run Ranger Trainings, Socials, keep documents up to date, setup/tear down HQ and so much more. If you are interested in any of the Ranger Teams: Social, Personnel, Training & Education, Logistics, Emergency Coordination or Communications, please let us know.
If you would like to volunteer for Rangers, please fill out the Ranger Volunteer Survey here.
Remaining Ranger training dates:
To sign up for a training, please fill out the Ranger Volunteer Survey here. If you need to change your training, **please email** rangers@fireflyartscollective.org.
If you would like to find out more about the Rangers, or want more info on Trainings or Teams, **please email** rangers@fireflyartscollective.org.
View the 2017 Ranger Manual here.
See you in the woods!
– The 2018 Ranger Council:
Drama, Helix, Broxie, Maverick, Cyan,