Transportation: Cars, Parking, and the Bus
Firefly has very limited parking, so we encourage you to carpool or take our very own Firefly Bus if at all possible.
Below are the many fine transportation options:
Firefly Bus
In 2019 we will have three buses leaving from Boston. Buses will run even if they're not totally full, so buy your ticket with confidence. If you know that you can take the bus, please buy your ticket early. More bus tickets sold might allow us to release more tickets to the waitlist, since lack of car parking is one of the big things keeping the event from growing. Help your fellow Fireflies get to the woods!
Bus Pick Up Locations (Click for map):
Bus Departure Times for 2019:
Tuesday, July 2:
10:00am Central, 10:15am Union, 10:30am Sullivan
Wednesday, July 3:
3:30pm Central, 3:45pm Union, 4:00pm Sullivan
Thursday, July 4:
10:00am Central, 10:15am Union, 10:30am Sullivan
Return Buses During Exodus

Return buses will all leave on Sunday July 7th between 1:00pm and 3:30pm. Buses will leave once full, with the last bus leaving no later than 3:30pm. The bus will not wait if you are late.
Purchase Bus Tickets
Bus tickets from Boston are $45 round-trip or $30 one-way.
Buy bus tickets by logging into your profile at tickets.fireflyartscollective.org and clicking on the "ticket sales" tab.
We will offer refunds upon request through June 17, 2019 (two weeks before the event begins). After that date, we will unfortunately only be able to offer refunds if the buses sell out AND someone else needs your ticket. Bus ticket purchases must be made online, and will end at the same time that event ticket sales close.
Major Bus Wins
Upon arrival at Firefly, the fine volunteers of DPW will help drive your gear up the hill to one of three pre-determined luggage drops. This is much more fun than driving in a car and having to schlep all your own gear up the hill. (NOTE: This service may not be available in the event of bad road conditions on-site)
You get water provided on-site! Up to one gallon per passenger per day
We'll help you deal with trash! We'll give you specially marked bags for your personal trash and recycling
All buses will make a 30 minute rest stop at a shopping plaza on the way to the event. Have your grocery list ready to expedite the process. Last year the checkout lines were long, so please take this into account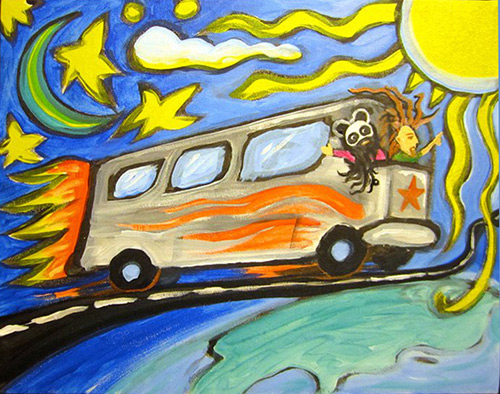 Bus Luggage and Freight
Bus passengers will be allowed to bring three large-ish suitcases plus a day bag. On our busiest trips, some of the luggage may be transported on a rental truck traveling with the bus.
Additionally, we are selling a limited amount of extra freight space in 10 cubic foot shares for $20 each, specifically for the use of bus passengers. To buy shares, email transport@fireflyartscollective.org with your name, email and phone number, and how many shares you would like to buy. Shares are not generally available for non-bus passengers. If you are bringing more than three bags, or if you'd like to make arrangements to load your gear onto the truck in advance, be sure to reach out to us in person via email far in advance.
LEAVE NO TRACE on the truck! If you put it on, take it off. All your gear must be clearly labeled with your name, phone number and where you camp.
NOTE: On the return trip to Boston, passengers with a larger amount of luggage may be directed to use a specific bus departure due to freight capacity.
Carpool: Request or Offer a Ride
Drivers, please be sure you are offering all available spaces in your car! Everyone must pull together to rideshare whenever possible, since we are so tight on spaces. If you have questions about using these boards, please contact parking@fireflyartscollective.org .
Go to our page at RickyRides to offer or ask for a ride! Easy instructions are here.

PLEASE ALSO REGISTER ANY FREE SEATS IN YOUR CAR! Use RickyRides here. Registering your car with available space allows people seeking rides to contact you via email relay- your personal contact info is not shared. Help the community!
Last year we had an average of 2 people in each arriving car; we really need to get that closer to 3 people per car! We have access to a remote parking site 2 miles away from the event site. If we start running low on parking space on-site, we may start asking new arrivals to drop their gear at the gate and then park off-site. We will shuttle you back from remote parking. Even if you park remotely, you will need to have a parking pass.
Event Parking
Parking will cost $30 per car.
Parking is limited at Firefly, so please take the bus or carpool as much as possible. It is recommended that you purchase your parking pass online in advance. Buy parking passes by logging on to your account at tickets.fireflyartscollective.org with the same information you used to register for the lottery and buy your event ticket. Once logged in, go to the Ticket Sales page (link at top of the Tickets page).
If you show up at the gate without a purchased parking pass, you will be charged $60 (cash-only) to park at Firefly.
Arriving, parking, and what to expect
Expect to spend a few minutes on arrival having your ticket checked, getting a wristband, a parking pass, and being greeted. You will be instructed where you can park after finishing at ticketing. You will then be at the event!
Your parking pass should be placed in the windshield of your vehicle and visible from the outside.  Please make sure all of the information on the parking pass is filled out. This ensures that we can find the driver of the vehicle if we need to have a car moved.
Please follow the instructions of our on-site parking volunteers and park as close as you can to the car next to you. If you're not leaving the event until Monday afternoon or later you may be asked to have your car blocked in by cars that will be leaving before you.
Onsite parking is near the event proper, but you will NOT be able to drive up into your camping space to unload. Expect to hand-haul your gear into the woods (a 10-20 minute walk). You are welcome to bring a cart or hand-truck to help move your gear into the woods!
If it rains a lot there will likely be delays in getting non-4WD cars out. Everyone will be able to get out, just know that if the week is very rainy it will take a bit longer — so plan accordingly, maybe get packed up early and then spend some time picking up trash to take home, helping with break down, or lending a hand to those who need it.
Given space constraints, you may be asked to park offsite (no more than a 15 minute drive away). You'll be able to drop your gear off on site and take a shuttle back. You can access your vehicle during the event while the shuttle is running — but you cannot transport gear on the shuttle.
Early Arrival and Vehicle Hill Access
For information on Vehicle Access on the hill during Early Arrival and Exodus, go here.
If you wish to set up your art or camp before noon on July 2, please fill out the Early Arrival Application as soon as you know your plans. *Everyone in a vehicle must be on the approved Early Arrival list*; if anyone in an early arrival group is not on the list (or doesn't have their photo ID), then no-one in the group will be allowed entry.
Volunteer!
Firefly does not happen without you! Please contact us if you would like to help out and volunteer!
We need volunteers with excellent driving records to help drive the freight trucks, which as a bonus gets you free transportation to the woods!
We need folks willing to monitor freight loading/unloading before or after the event!
We need folks to help coordinate parking on-site!
We need folks who are riding the bus to be volunteer on-board coordinators!
Drop us a line!

Bus, Rideshare, Freight: Email Steph at transport@fireflyartscollective.org
Parking: Email Sarina at parking@fireflyartscollective.org