The Firefly Cores are the groups of volunteers that perform the specific functions that make Firefly happen. Each Core typically has two Core Co-Leaders and a multitude of volunteer helpers, as well as a Firefly Board Liaison. The Firefly Cores make things happen before, during and after the event. Whether you become a Core Co-Leader or one of the many volunteers that help out each Core, Firefly happens when you participate and volunteer!
If you are interested in helping out with a Core, read below for more information. You can contact core leaders via email, or (in some cases) by filling out an online signup form. As we prepare for this summer's event, many cores are now looking for co-leaders! We're keeping an updated list here.
This year, volunteer shift signups will all be handled through our new scheduling tool: Volunteer.fireflyartscollective.org
Thank you for helping – we all create Firefly together!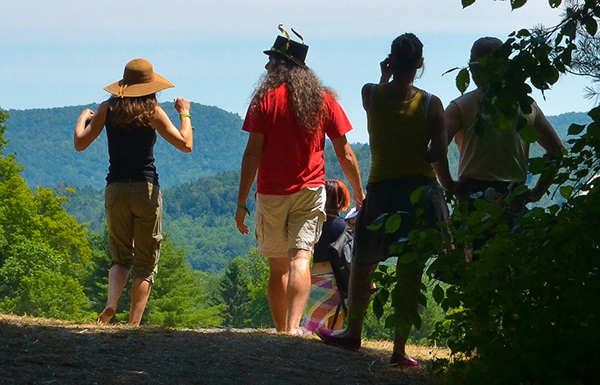 Coffee Kitchen
Core Co-Leaders: Terry Dovidio, Danimal, E-Hawk
Email: kitchen@fireflyartscollective.org
The purpose of Kitchen is to provide coffee for the Rangers, volunteers, and participants. Kitchen also provides hot water, bags of tea and hot cocoa, milk, sugar, and honey. A three bin dishwashing station is set up and often a propane stove is donated for communal use during the festival. Kitchen serves as a gathering place and communal cooking area if stove is present.
Learn more and sign up to help on the Kitchen page.
DPW
Core Co-Leaders: Iva, Dieselbear
Email: dpw@fireflyartscollective.org
DPW/Infrastructure is responsible for building, assembling, maintaining, and removing the infrastructure that makes Firefly happen! In addition to the DPW-specific tasks, we also try to assist other cores with any "heavy lifting", and take on new responsibilities as needed. The core is broken down into several crews that take action at different times before, during, and after the event.
Learn more and sign up to help on the DPW page.
Early Arrival Core
Core Co-Leaders: See Gate
Email: early@fireflyartscollective.org
Announce early arrivals prior to the event
Handle early arrival sign-up
Coordinate early arrivals
Manage road access and parking before event, including verifying all vehicles are out of the woods by 11:30am before Firefly starts
Fire Core
Core Leaders: TBD, Kevin Tracy, Bendy
Email: fire@fireflyartscollective.org
The mission of Fire Core is to provide experienced support for you both pre-event and on-site, to ensure fire safety, fire art safety and fire performance safety at Firefly.
Fore Core volunteers assist you with safe use of fire pits and generators. They also oversee the use of fire performance areas and fire Conclave on Bug burn night.   
The Fire Art Safety Team (FAST) team is a part of the Fire Core which is comprised of artists, fire safety volunteers, and people with professional experience, who will assist you in the safe execution of Open Fire, Flame Effects, and/or Pyrotechnics in your art installation or theme camp.
**(Please note: fireworks and pyrotechnics are restricted by Vermont law and are not allowed at the event without approval from the FAC Board of Directors.)
Learn more on the Fire Core page.
First Aid
Core Lead: Tara Cavanaugh
Email: firstaid@fireflyartscollective.org
FireFly First Aid (FFFA) volunteers provide basic first aid services to event participants.  CPR and first aid training are minimum recommendations to volunteer. FFFA volunteers work in pairs and a FFFA Lead is always available.
Having a minimum of first aid and CPR training, we do not diagnose medical conditions or perform invasive interventions.  In the event of a medical emergency, FFFA volunteers will work together to assess the situation and help the participant find the medical care that they need.  In the event of incidents and disasters of various non-medical types, FFFA volunteers stand by in order to assist as needed and work together with the rest of the Firefly Safety Cores.
Learn more and sign up to help on the First Aid page.
Gate
Core Co-Leaders:  Jessica Marcus
Email: gate@fireflyartscollective.org
Gate Volunteers are the first friendly faces that Fireflies meet when they arrive at the event. The Gate is staffed at all times, to help usher new folks in (or folks out), safely, as well as to be the face of Firefly to visitors or neighbors. Gate crew will have a radio with which to be in touch with Rangers and the Board; you're never alone!
Learn more and sign up to help on the Gate page.
Gnomes (Volunteer Helpers)
Core Co-Leaders:  NEEDED
Email: gnomes@fireflyartscollective.org
Promote volunteering, educate people about volunteering
Connect volunteers to where they are needed based on past experience or skills/knowledge they have to offer
Send emails to Theme Camp leaders to encourage members of camps to volunteer
Solicit floater volunteers
Coordinate with Core Co-Leaders and report to daily meeting during Firefly
Work with Sign/Information Core to post volunteer needs during the event
Learn more and sign up to help on the Gnomes page.
Greeters
Core Co-Leaders: Jessicalee Skary, Sarah Rogers
Email: greeters@fireflyartscollective.org
Greeters have the great honor of welcoming people to Firefly and helping to orient them in space and mind! Our role is to help people make the transition from the "real world" into the world of Firefly.
Learn more and sign up to help on the Greeters page.
Parking Core
Core Lead: Sarena Canelake, 1 NEEDED
Email: parking@fireflyartscollective.org
Parking and Exodus – Automotive Tetris and Rodeo! …Parking Core needs your help making sure that the event runs smoothly, that gate wait times are reduced, and that everyone has a place to park!
Learn more and sign up to help on the Parking page.
Radio Core
Core Co-Leaders: Christian "Spaceman" Ternus, TBD
Email: radios@fireflyartscollective.org
Small core of technologically-minded folk keeping our walkie-talkies and other comm systems going.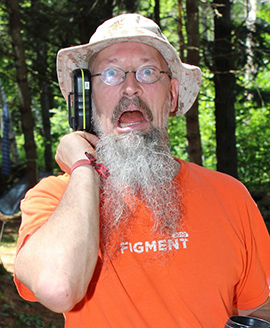 Rangers
Core Co-Leaders: Kevin Tracy (Drama), Jessica Sedan (Helix)
Email: rangers@fireflyartscollective.org
This is a great volunteer opportunity for participants who have been to Firefly before or have served as Rangers at other Burner events.
Firefly Rangers are friendly helpful Fireflies working with other festival participants over the course of the event. Rangers keep an eye out on safety, guide the lost, and help where they can. They are neither a security force nor enforcers. Anyone with decent people skills can become an excellent Ranger. Rangers from other Burn-type events are very welcome indeed.
Learn more and sign up to help on the Rangers page.
GTFO Core
Core Co-Leaders: Joe Netzel
Email: gtfo@fireflyartscollective.org
GTFO is short for Get The Freaks On/Off (The Hill). Allied with DPW and LNT, this core helps people arrive and depart the festival site. GTFO will be managing traffic on the access road and up into the woods primarily. Early Entry will be managed by GTFO as well as Exodus, making sure participants are able to be off the premises with their LNT completed, by the official end of the event.
For more info, see the GTFO page.
Leave No Trace (LNT) Core
Core Leader: Kel Sauer, Kenny Ide
Email: LNT@fireflyartscollective.org
Coordinate LNT volunteer signup
Deal with MOOP (Matter Out of Place)
Set up and manage Lost and Found box at event
Encourage people to take recycling and trash away from site
At the end of Firefly, take site walks through the woods and camps to make sure everything looks natural and document any problem areas
Members of this Core are permitted to spend an extra day at the site after the event
Moop Map
Learn more and sign up to help on the LNT page.
Map Core
Core Co-Leaders: Chooch, Kel Sauer
Email: maps@fireflyartscollective.org
Get placement info and create a print and online MAP of the event, prior to people getting to the woods! Previous years maps have been fun and well designed- Carry on the fun Map tradition! Write to us to help.
Sanctuary
Core Co-Leaders: Arlee, Bex, Zieve
Email: sanctuary@fireflyartscollective.org
Are you a good listener with a knack for non-judgmental listening?
Sanctuary is a place for Firefly participants when they are feeling overwhelmed. Sanctuary has helped participants coping with emotional trauma, interpersonal issues, anxiety, and over-stimulation. Throughout the festival there are always two volunteers at Sanctuary and two on call. The volunteers maintain a calm space and offer non-judgmental empathetic listening.
Learn more and sign up to help on the Sanctuary page.
Signage
Core Co-Leaders: Inky, Helen
Email: signage@fireflyartscollective.org
Signage or "Signcore" is responsible for displaying & maintaining the visual signage inventory at Firefly.
From street signs to important safety signs, laminates, information, directions, shrines, and puns, Signcore, in partnership with Placement, DPW, and Map, visually communicates the necessary info for all fireflies during the event.
Learn more and sign up to help on the Signage Core page.
Sound Core
Core Co-Leaders:  Nick Binary, Dr. Claw, Chooch
Email: sound@fireflyartscollective.org
Ensure that all sound camps are registered prior to event
Coordinate the location and layout of sound camps and work with Art and Theme Camp Placement Core
Conduct sound meter testing throughout event
Communicate with sound camps about volume limits as needed during the event
Stage Core
Core Leader: David Green, Andy Goldman, Spencer Cobb
Email: stage@fireflyartscollective.org
This group manages the Open Stage, coordinating and assisting performers.
Send out performance request emails
Create & publish stage line-up
Supervise schedule and support performers during the event
Survey Core
Core Co-Leaders: Aaron Kaufman, Robert Ward.
Survey Core designs and administers the Post-Event Survey. This is the census that lets us know who we are, what we think, and how the event went. Serious data geeks at the ready to gather your feedback! Cores use this info to get better next year.
Ticket Core
Core Co-Leaders: Dan Snyder
Email: tickets@fireflyartscollective.org
Help design our ticketing system and keep it running smoothly!
Transport Core
Core Co-Leaders: Steph, 1 NEEDED
Email: transport@fireflyartscollective.org
Our main obstacle to opening up the event to more attendees has always been parking space. This team coordinates and advocates for driving alternatives such as ride share and our new Bus service, so we can let more happy people experience Firefly!  Transport Core will:
Set up and supervise Firefly Bus system
Publicize ride sharing service
Assist with parking and shuttle arrangements
Read about arrival options and sign up to help out on our Getting There page.
Work Weekend Core
Core Co-Leaders: Matthew Ashby, Aisling
Email: workweekend@fireflyartscollective.org
Send out Work Weekend announcement emails
Send out Work Weekend sign-up announcement emails
Coordinate Work Weekend sign-ups
Send out Work Weekend information and direction emails and facilitate email contacts for carpooling and ride situations
Food and supply shopping for each Work Weekend
Arrive early for each Work Weekend to set up signs directing volunteers to where they should park, sign in, and camp
Check in volunteers during Work Weekends
Work closely with all Core Co-leaders to create task lists, organize quick meetings during the Work Weekends for updates from Cores and to make sure volunteer resources are maximized
Make rounds through the site in between meetings to answer questions and assist as needed
Provide coffee/tea/hot water, snacks and lunch for Work Weekend volunteers
Ensure everything is cleaned up and put away at end of each Work Weekend
Learn more and sign up to help on the Work Weekends page.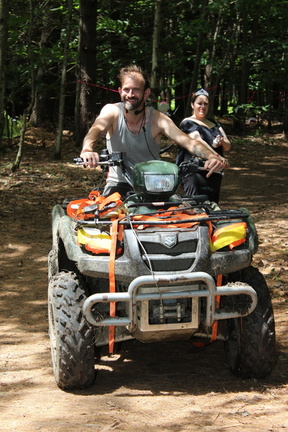 Art Grant Core
Core Co-Leaders: Dennis Zografos, Owen Williams, Sara Sinback
Email: grants@fireflyartscollective.org
Announce Art Grants submission prior to the event
Manage collection of Art Grant submissions and obtain signed contracts from recipients
Check in with Art Grant recipients during the event to make sure they have their installations up in time
Help to coordinate one or two art walks during the event (maybe make a make-shift map)
Arrange & makes sure Art Grants are photographed and documented well
Submit photos to Firefly Art Grant Photo Gallery
Art Truck
Core Leader: Thomas Huber
Email: arttruck@fireflyartscollective.org
The Art Truck hauls all that beautiful, and usually large, art into the woods and back.
Before the burn, help pack art into a large truck, re-pack the art, and maybe even re-pack art again!
Driving the art to the burn.
Opening the truck up for artist to retrieve their art at the burn.
On the last day of the burn, help artist load/pack any art, that wasn't set on fire, back into the truck for a return trip.
Right after the burn, provide the artist a place to pick up their art.
Bug Builders
Core Co-Leaders: Joed Polly, Dan Snyder
Email: bug@fireflyartscollective.org
The biggest event at Firefly is the Bug Burn. Help build a huge art installation and then burn it to the ground!
Work Weekends:
Volunteers are needed during the Work Weekends to help gather the many sticks it takes to build the bug, help the Bug Core Co-Leads build the main structure that supports the bug, moving and piling up Firewood.
During Firefly:
Volunteers are needed to help stuff the bug full of firewood to help it burn.
After Firefly:
Volunteers are needed to help with cleaning up the burn site.
Art & Theme Camp Placement
Core Co-Leaders:  Finn McCool, Carl Gruesz, Jess Mieko
Email: placement@fireflyartscollective.org
Register Theme Camps prior to placement, including the main members' names & contact info, a description of the camp and if they will be having sound, fire, fire art, propane, and/or electricity.
Attend the Art and Theme Camp Placement Work Weekend
Help find places for people to put art and theme camps
Rope/tape off areas that have been chosen for art or theme camps
Work with mapping person to map Art Installations and Theme Camps
Trail Signs
Mapping: Developing and designing map for Firefly
Accessibility
Core Leaders: MattO
Email: accessibility@fireflyartscollective.org
Help people with disabilities be included in Firefly with transport of their stuff up the hill.
Mostly active during load in and load out, daytimes only.