What are Work Weekends?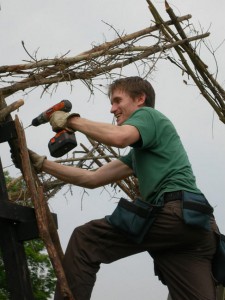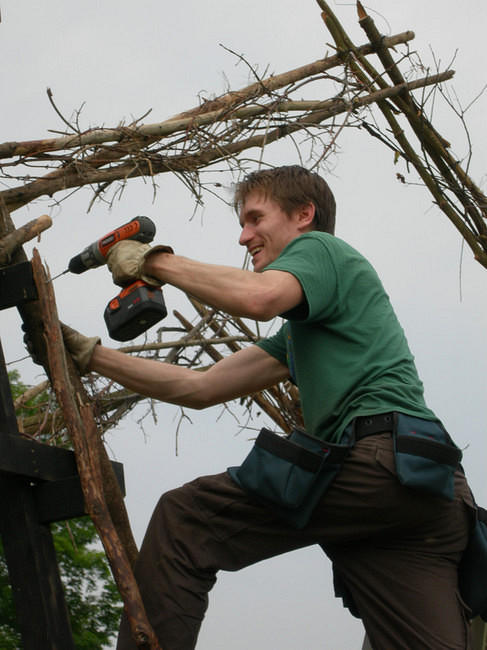 During weekends in June, Fireflies go to the event site in Vermont to improve and prepare it for the Festival.
There's road and trail repair, ditch digging, building the Bug and the Temple, putting up huts for Rangers, Kitchen Cafe, and Sanctuary, placing theme camps and art projects, and much more. Come prepared to help with Firefly Infrastructure, and when the day's work is done, enjoy camping and socializing with other volunteers around the fire pit.
Work Weekends are also used for Art & Theme Camp placement and some preliminary Theme Camp preparation.
Important Information
You must sign up ahead of time to attend a Work Weekend.
Once approved to attend, you will be emailed detailed info for that work weekend along with the directions. Upon arrival, you will need to check-in with the Work Weekend Leads. If you are not signed up ahead of time and approved to attend, you will be asked to leave the site.
Site capacity for Work Weekend volunteers is limited, so please make sure you sign up early. So stay tuned to this page for Work Weekend Sign-up announcement.
All Work Weekend volunteers will need to follow the COVID-19 policy of being vaccinated or testing themselves before arriving.
More detailed Work Weekend guidelines and policies can be found on the Work Weekend Policies and Guidelines page.
If you have questions relating to any of the work weekends, please email workweekend@fireflyartscollective.org.

2023 Schedule
Work Weekend 1: June 9-11, 2023
Tasks: Come prepared to work on communal tasks, such as stick gathering for the Bug, clearing sites and setting up event infrastructure.
Theme Camps/Art: No one may work on Art or Theme Camp sites this weekend, because art and theme camp placement has not yet occurred.
Work Weekend 2 + Placement Day: June 16-18, 2023
Tasks: DPW needs lots of assistance with terraforming, drainage, bridge repairs, and shelter set-up. Gathering sticks for building the Bug continues.
Theme Camps/Art: The Art and Theme Camp Placement process begins Sunday at noon. Refer to the Placement Guidelines for details. After your Art object or Theme Camp site location has been settled on Sunday, you may clear brush, fly tarps, and begin big theme camp infrastructure work. If you are only coming for camp placement, please do not camp overnight on Friday or Saturday.
Work Weekend 3: June 23-25, 2023
Tasks: We finish up DPW projects like terraforming, drainage, and bridge repairs. The Bug Builders need help building the Bug's body and gathering more sticks for it.
Theme Camps/Art: If your camp is placed on previously unoccupied ground which requires more preparation work, please inquire as to how to coordinate with the Work Weekend co-leads to best prepare your camp's site during this Work Weekend. Theme camps with large commitments for pre-event setup can erect some infrastructure. This is not intended to replace Early Arrival. Small amounts of equipment can be cached by theme camps (organized, covered with a tarp). Art which requires more complicated setup (e.g. structures constructed on site, complicated integration with trees) can start erection during this weekend. Artists are encouraged to consider Early Arrival as well. Make sure to discuss your infrastructure or art setup with a Work Weekend lead to make sure it doesn't cause any problems for other Event Planning and infrastructure!
Work Weekend 4 (Bug Build Weekend): June 30-July 1, 2023
The 4th weekend is very close to the opening of the festival, and runs from Friday afternoon through dusk on Saturday. Sunday is not part of this work weekend. You MAY NOT stay on site until the festival starts. This weekend is much smaller and is intended to complete particular projects which require more time. Depending on the number of attendees, lunch may not be provided during this final weekend.
Tasks: General-purpose volunteers are not needed. Participants should coordinate with Core leads ahead of time and come prepared to work on a specific project, such as Bug or Temple.
Theme Camps/Art: If you need extra setup time for pieces and want to erect art during this weekend, please coordinate with the Work Weekend core leads before arriving.