What/Where/When Guide

The WhatWhereWhen (WWW Guide) is Firefly's calendar of community-hosted events happening in the woods. Links have been sent to the announce list and the FB group.
The email and fb post have a quick Explainer of how to use.
PRINTABLE VERSION
Fireflies, the Printable WWW PDF has been emailed to the Announce List and posted on our FB group.
The Firefly 2023 WWW on DoorMouse
The What/Where/When schedule to find everything going on at Firefly.
Links and How-To Guide went out in the Announce List and FB group, updated 7/3!
ONLINE: DoorMouse is a project of several members of our community, made with privacy a core value, aimed at helping our local event promoters become independent of Big Social Media. The Firefly communications committee has chosen to use them as a vendor this year and act as their first big event. We think it will be a great experience for finding what's going on in the woods. As you use it, please send any support questions to nik@doormouse.com to help improve the service.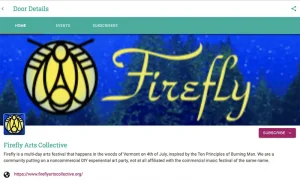 Add Your Listings to the 2023 What/Where/When!
The Official (Camp-based) Firefly Event Submission Form
If you have a camp-based events, please submit this Google form to have your 2023 events added to the What/Where/When listing (we'll do the rest).
DUE: Thursday 6/29/23
INSTRUCTIONS:
To list events connected to a Camp, please use our Google form only.
To manage events yourself after creation, and have a Camp presence, someone from your Camp will need to create a free DoorMouse account.
In this account choose a Display Name which will be visible in the app as Host of the events (maybe your Burner name).
-Make a note of your Display Name to add as Host in the Google form.
-From this user account, send a friend request to the Firefly user account. This will notify them to set you up as a Camp in the system.
Things to have ready to fill out our Google form:
– your DoorMouse Display Name for your camp (put in Host Name field)
– a camp email that can be displayed in the app
– a square icon for your Camp (or something close- they will crop)
– a 16:9 banner for your Camp (Or any image- they will crop it for you.)
– a 16:9 banner for each Event (Optional. …Any image, they will crop it for you. Draw something cute in Sharpie and take a picture with your phone. Srsly you can steal one off the internet, this is for our private use  🙂
Questions on how to use the form? email liz@fireflyartscollective.org
The Official Firefly (Non-Camp) Event Submission Form
DUE: Thursday 6/29/23
If you have an event from individual not associated with a camp, please submit this form to have your 2023 event added to the What/Where/When page.
Things to have:
– event name and description
– where it will be held (a camp or location)
– a 16:9 banner image (any image, they will crop it for you. Srsly you can steal one off the internet, they are for our private use 🙂
For issues submitting or navigating the forms, please email liz@fireflyartscollective.org
LATER EVENT EDITS (after original input using the forms here):
If you want to manage the listing yourself after it's up, you can make an account on DoorMouse and do it there. (Create a Display Name and email address that can appear in the app.)
Otherwise, you will be able to edit your listings through the same Google form (look for the form receipt notice from Google to your email)-
If you do make edits on the form, email Nik@DoorMouse.com to make sure he updates the live listings for you. (For now this year, form event info is being massaged by humans and input to the DoorMouse system. Eventually it will be smooth like butter.)